Description
AR-15 "M4 CARBINE" Stripped Lower Receiver is the perfect base for your custom AR15 build. Machined to mil-spec dimensions, our lowers work with standard AR15 components and ensure the highest quality with a correct component interface.
AR-15 STRIPPED LOWERS Improvements
Upper Tension Screw – Allows users to fine tune the fit of the upper and lower receiver through the use of a nylon tipped tensioning set screw inserted in the grip tang of the lower receiver. This provides a tight fit with any standard AR-15 "M4 CARBINE" STRIPPED upper receiver.
Increased Magwell Flare – Allows for easier insertion of magazines and provides a sleeker look.
Includes:
Stripped AR15 Lower Receiver, Gen 2
Nylon tipped tensioning set screw
Material:

Made from 7075-T6 Aluminum

Finish:

Black, Hard coat Anodized

Caliber:

Multi

Fire Selector:

 "SAFE" (Safe), "SEMI" (Fire), "BURST" (Full-Auto)
California Buyers – stripped lowers are sent to California as "Long Guns".
FEATURES
These limited-edition AR-15 "M4 CARBINE" Stripped lowers are made using the most advanced aerospace manufacturing technology to produce the industries finest, forged Mil-Spec lowers. Our receivers are machined on a multimillion-dollar, automated, manufacturing system that enables us to produce a product of unequaled quality and value.
These forged AR-15 "M4 CARBINE" Stripped are quality made using material is 7075-T6 and are marked "CAL. 5.56MM." to accommodate most builds. The finish is black hard coat anodizing per Mil-8625 Type 3 class 2.
WHAT IS A STRIPPED LOWER RECEIVER?
Before we talk about AR-15 "M4 CARBINE" Stripped, let's first discuss what a lower receiver actually is. In terms of firearms; the lower receiver is the frame that incorporates internal components such as the trigger assembly and safety controls, as well as holds the magazine. For AR15's, the lower receiver is the only serialized component, thus considered the actual firearm. When talking about stripped lowers, the term simply refers just the lower receiver itself, without any of the previously mentioned components.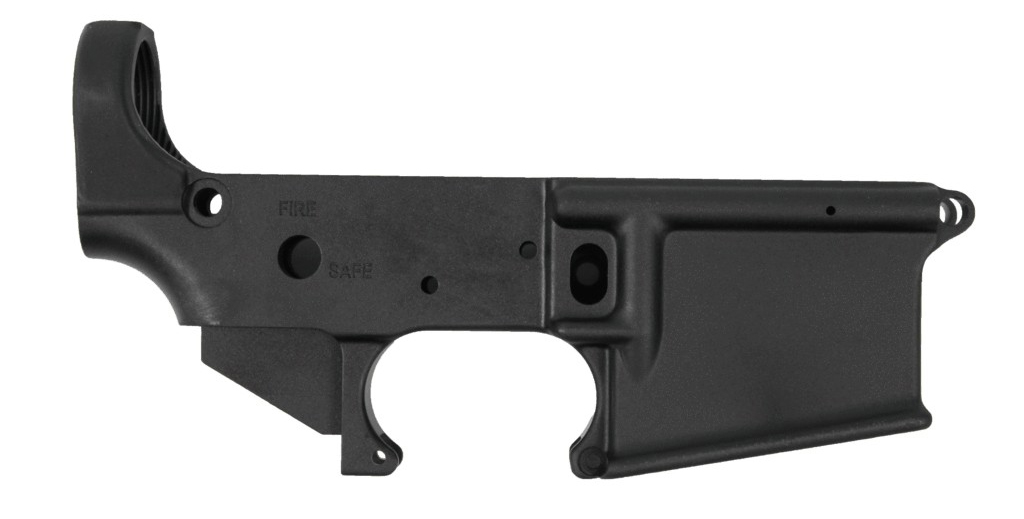 A standard stripped AR15 lower receiver. No internal components included.
STRIPPED LOWER RECEIVERS
As mentioned above; even without a trigger, magazine, or safety; and without being attached to an upper receiver, the lower receiver is considered a firearm. This means that you need to purchase your stripped lower from an FFL Dealer, and undergo a background check. So why buy a stripped lower if it has no parts with it? And the ability to customize it. If a consumer buys a stripped lower, they can add their favorite trigger, grip, and various lower parts. Generally for higher end guns and shooters who are experienced enough to know what they need and like, stripped lowers certainly have their place.
COMPLETE LOWER RECEIVER
Like AR-15 "M4 CARBINE" Stripped, complete AR-15 "M4 CARBINE" Stripped lowers are still considered a firearm. The only difference is that these lowers are purchased completely assembled with a trigger, safety assembly, and magazine assembly (these parts are also referred to as a lower parts kit). Since there is no assembly required, you just pin it to a complete upper and you are ready to shoot. Generally for more inexperienced or price conscious shooters, a complete lower doesn't typically come with any bells and whistles like a high end grip or light trigger.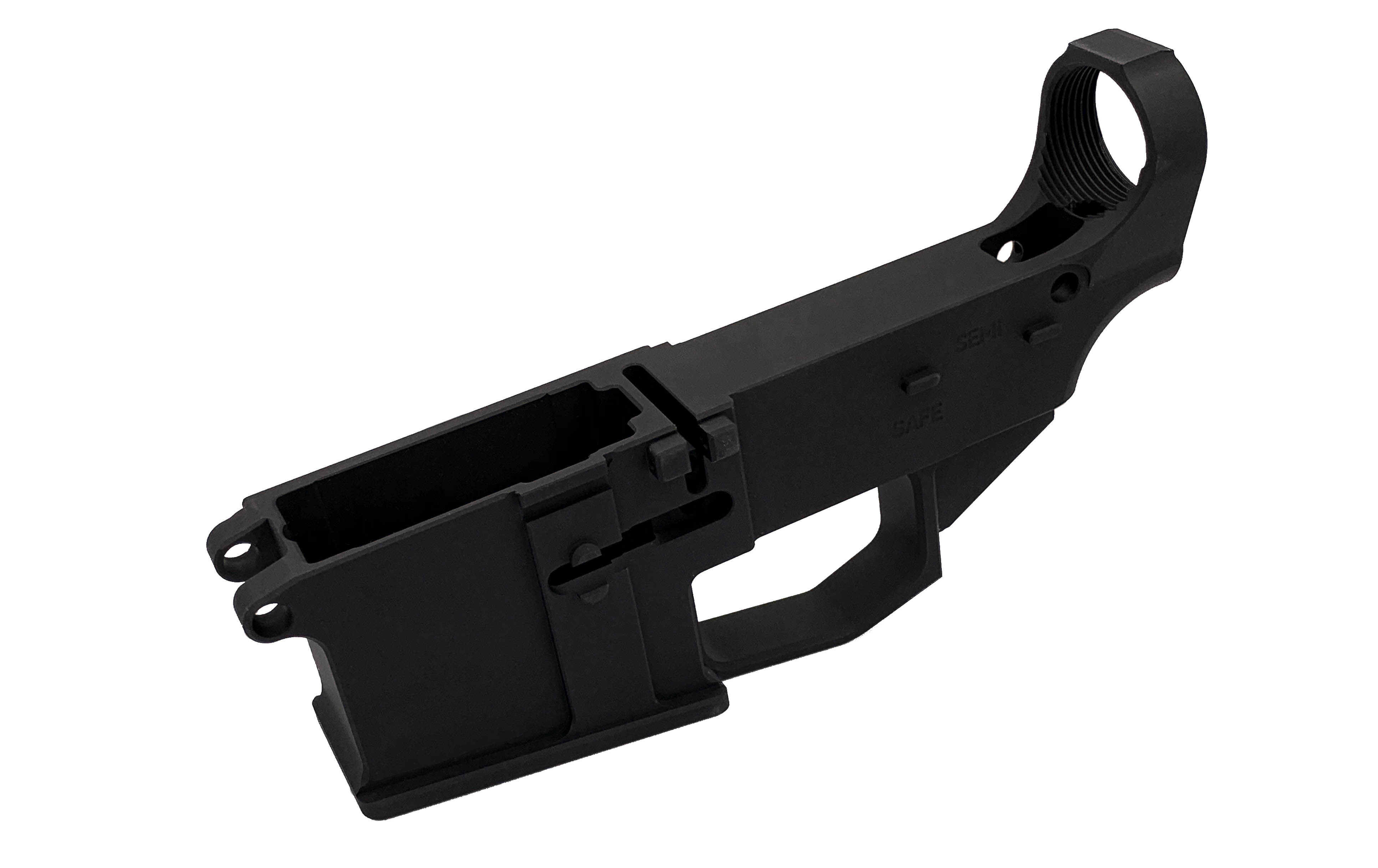 A stripped AR15 80% lower receiver. All it needs is milling and it will be ready to accept the LPK.
STRIPPED 80% LOWER RECEIVERS
Technically, 80% lowers are stripped by nature, and do not need to be referred to as "stripped lowers". When comparing an 80% lower to a stripped lower, a few key differences arise:
-80% lowers are not considered a firearm by the ATF. So this means no background checks, no FFL required, and no need to get off your couch.
-No serial number. Now, this is only true in some states so make sure to do your own research on your specific states laws, and 80% Arms offers serialized options for those of you in 2nd Amendment restricted states. But generally speaking there is no serial number, meaning the lower can be shipped straight to your door.
-Milling and tools required. Since 80% lowers are not completely milled out, there is labor and assembly required when purchasing one. With our 80% lowers and industry recognized Jigs, 80% Arms makes it easy to complete your lower.
BUY A STRIPPED LOWER FROM 80% ARMS!
Whether you need a serialized lower or not, 80% Arms can provide you with a high quality and affordable  lower receiver, jigs, or an 80 percent lower kit! Ready to be milled out and completed with your favorite budget or high end lower parts, we offer lowers in various styles and colors, as well as high end triggers, grips, and miscellaneous parts needed to complete your next build!